This tour is a luxury experience, we will take you on a culinary and intellectual journey.
Do not think of this as a cycle tour, the bikes are merely a chosen form of transport to wheel you from each wonderful destination through picturesque scenery. This full day tour includes your wheels, punting, entrance to university grounds and buildings, and guide with lunch, drinks and afternoon tea recommended additions for this tour.
In just one day experience true Oxford.
Read More…
Our Oxford Experience tour is a full day excursion, lasting approximately six hours. During your Oxford Experience our tour guides will guide you through the streets, suburbs and countryside within Oxford. Stopping at a number of carefully selected locations where we will share local knowledge and historic information.
During the morning we will explore historic Oxford and its University, visiting both town & gown buildings and grounds. For lunch we will grab a pole and climb aboard a traditional Oxford punt boat and gently punt along the river exploring college grounds only accessible by river.
Lunch will be available from the wonderful Cherwell Boat House who offer a fine riverside dining experience, or enjoy a picnic lunch whilst floating along the River Cherwell. After lunch we will amble through the leafy suburbs visiting homes of past & present famous Oxonians (including J.R.R. Tolkien), before riding alongside Oxford's tranquil waterways.
In the afternoon we'll enjoy a refreshing drink by the riverside in one of Oxford's 17th century Inns, before making our way towards the city and finishing the day with a great English tradition; Afternoon High Tea & Scones. (optional).
This is an inclusive package with the bikes, guide, college entrance fees and punting included.
Show Less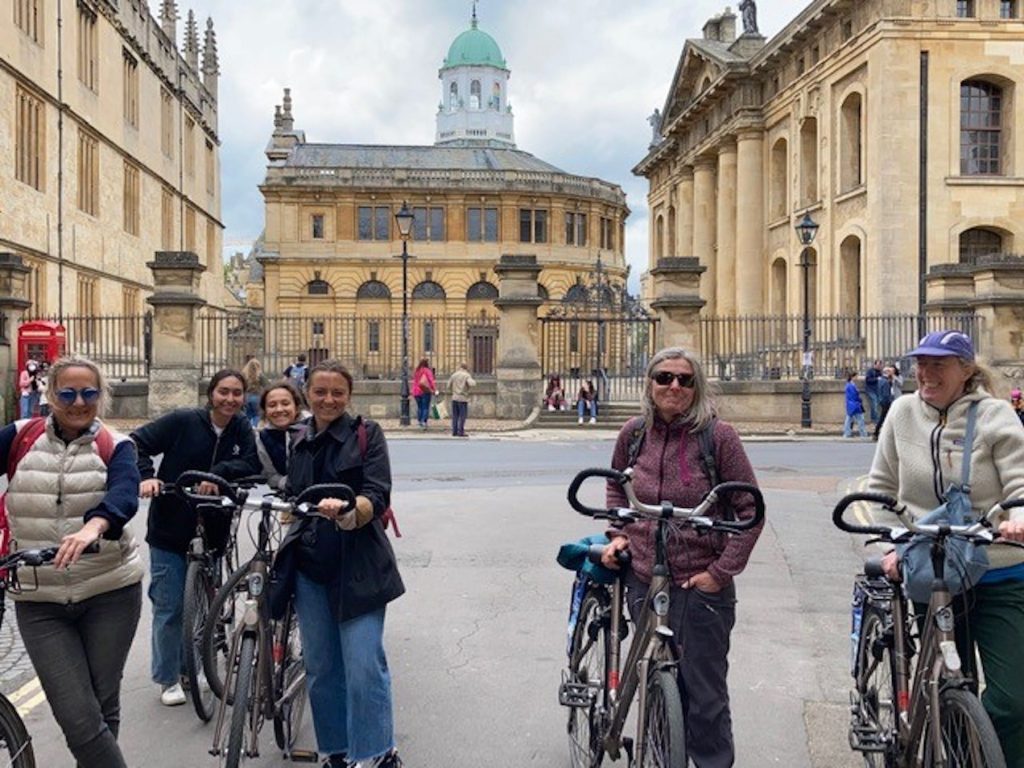 Key Facts
Tour Length – 9 Miles / 14 Km
Difficulty – Easy
Tour Duration – 6 hours – 7 hours
Bikes – All
Prices:
Adults £110
Children (15 and under) £90
Infant (in trailer or child seat) £20
Minimum two people for tour to run
Download
To view a full route description and itinerary please download our brochure.
Highlights
Meeting Point
FAQ
Highlights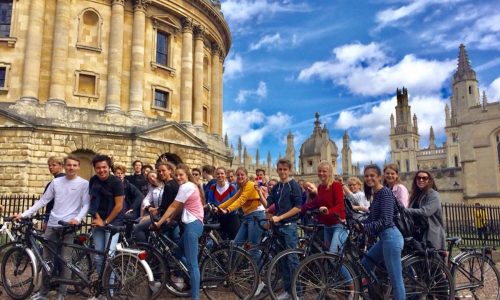 The historic city of Oxford
Exploring Oxford's universities buildings and grounds
Discover Oxford's hidden architecture
Learn all about Oxfords chequered  'Town & Gown' history
Visiting Oxford's Victorian Covered Market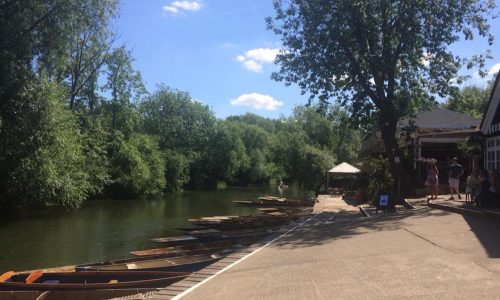 Punting & Lunch
Punting on Oxford's waterways
Enjoy luxury riverside dining
Enjoy cycling through Oxford's unchanged countryside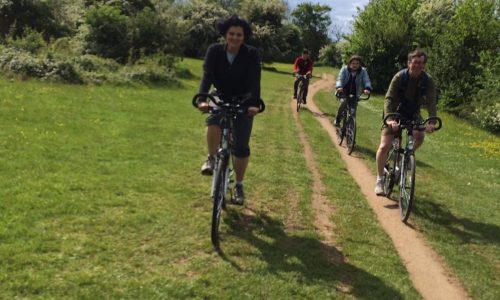 Relax in the beautiful countryside
Cycle riverside through Lewis Carroll country
Enjoy the tranquil Oxford Canal
Enjoy an afternoon drink at a river side pub
End the day back in the city and enjoy English Tea & Scones at an exquisite location
When days and times do the tours run?
There are no scheduled times for our Oxford Experience Tour, this experience is arranged specifically for you at a time that best suits you and guide availability. Complete the Book Now form with your desired date and time and we will be in touch to finalise payment and confirm booking.
Can I bring my Dog?
Yes, no problem but let us know so we can book a dog trailer for you. There are also parts of the tour off road where your doggie can roam free
Can I bring a bag with me?
Yes, you can either carry your bag or some bikes do have baskets you can fit it in. If you have luggage or bulky bags we can make arrangements for you to leave these at our shop.
What do I need to bring with me?
Mostly nothing except yourself! But here are a few ideas to help keep you comfortable (depending on time of year)
Suitable clothing for the time of year
Camera
Sun cream
Bottle of water
Comfy shoes
Are the tours conducted in English?
Our tours are in English, our guides speak various languages and if you would like a tour in another language please contact us to arrange.
Do I need to book tours?
Yes, please email us before you come. If we have no guided tours running on your desired date we offer bike hire and self-guided maps for the tour.
What happens if it rains?
We don't want you to have a miserable time if the heavens are falling down we always give the option to cancel or change your date. However rain doesn't stop us and we recommend bringing your waterproofs if there is a chance of rain.
Do we go inside the museums, monuments and colleges?
Not as standard but it is always possible to pop into a college if the group wants to, some colleges charge small entrance fees which would not be included in the price. When booking your tour let us know and we can make suitable arrangements
What are the safety issues?
We follow carefully planned routes on our tours, which will keep you away from busy traffic and were possible using pedestrian crossings. Our hire bikes are regular maintained by qualified mechanics.
Parents are politely reminded that they are responsible for their children.
How big do the tour groups get?
Normally no more than 10 but this may be bigger if there are families with children. We cater for larger groups of up to 100 but these are pre-arranged, contact us for more details if you have a large group.
Are these tours appropriate for children?
Our day tours are very much so. We have child seats, trailers and trailer bikes. If your children can cycle let us know their age and we can reserve a children's bike for them. Holiday tours may not be suitable, please contact us to discuss in more detail.
After a tour can we hang onto the bikes a bit longer would that be possible?
If you have been on one of our tours you can keep the bike until the shop closes or the following morning for a small rental fee, we would require a deposit so let us know you beforehand.
How fit do we need to be for a tour?
The group will always go as fast as the slowest rider, it is not a challenging ride anyway as you are always stopping to get information from the guide about history. You will not even get out of breath it is designed for all abilities.
How often can we go to restroom?
We have a toilet when you arrive and there are public conveniences on route, close to where our guides stop. If you are worried and think you may need to stop outside these breaks tell your guide beforehand and they will point out all facilities along the way. It is very relaxed and in no way a regimented tour, we always stop whenever anyone needs to.
Do you provide helmets?
We do keep some helmets in the shop we can lend you but cannot guarantee their safety
For safety and hygienic reasons Bainton Bikes do not hire out helmets. Apart from no legal constraints compelling a rider to wear one we also believe we cannot guarantee the hygiene of the prior user or the care given to the helmet. A helmet's safety is deemed compromised if it has been dropped to the ground as the inner shell must be intact, the only way to know this is through thorough examination using x-ray which we are unable to do after every hire. Please bring your own helmet if you are worried, alternatively we do also sell helmets in our shop.