This tour provides a safe, fun and easy route to the nearby town of Woodstock, where the world famous Blenheim Palace is situated and the famous prime minister Winston Churchill was born.

This is a circular route that leaves the lively city of Oxford and heads through a large area of common land given to the freemen of the city by Alfred the Great, Port Meadow and which has the River Thames flowing through it.
The route joins the waterway path and you ride along the path where Lewis Carrol first began to spin the tale of Alice in Wonderland. After joining the Sustrans approved cycle paths you head onto a traffic free route towards the town of Woodstock, here the world renowned Blenheim Palace is situated.
The return journey leaves Woodstock behind and joins the Oxford Canal path providing a relaxing route all the way back into the city.
show less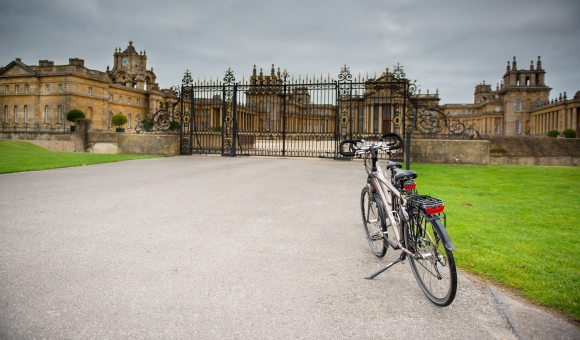 Key Facts
Tour Length – 16 Miles / 26 Km
Difficulty – Easy
Tour Duration – 4 hours – 5 hours
Suitability – Family friendly
Bikes – Touring bikes, Tandem, Hybrid, Child trailers & seats
Standard Price – £3
Purchase Route
Follow the link to buy a copy of this bike tour.
Save 30% on Blenheim Palace Entry
Arrive at Blenheim Palace on a Bainton Bike and receive 30% discount on entry fee!
Simply visit the kiosk on arrival and advise the ticket seller that you have arrived on your Bainton Bike to receive a 30% discount
Highlights
Starting Point
FAQ
Rent a Bike
Highlights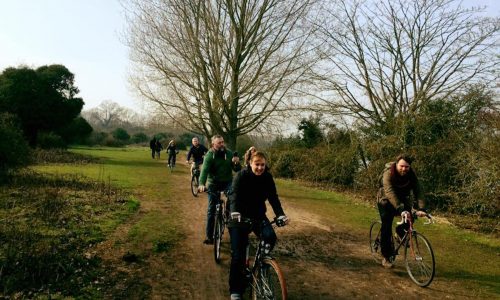 Escape the city along the River Thames
Port Meadow
River Thames
Alice in Wonderland
Treacle Well
Godstow Nunnery Ruins
Medley Manor Farm (Pick your own fruit)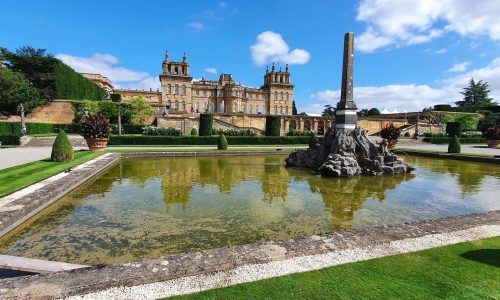 Blenheim Palace
Historic Woodstock Town
Blenheim Palace Gardens
Blenheim Palace Park
The Palace
Winston Churchill
Rosamund the fair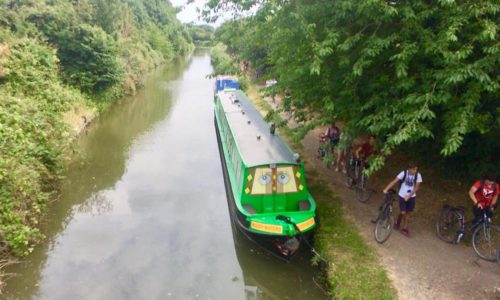 Return along the Oxford Canal
The tranquil canal
Unique canal long boats
Water side pub stops
Begbroke Village
Where do the tours start?
The start and end locations will vary depending on the cycle route you are conducting, the routes are structed in such a way that points of interests and directions are numbered and on the circular tours there is no reason why you cant start and end the route at different points on the route.
How difficult is the route?
Each route is graded per difficulty, which can be fund within the route description, the difficulty is graded as follows;
EASY: Relaxed cycling, ideal for beginners and for families looking for a cycling adventure. You will have plenty of time to relax, enjoy the sights and stop whilst on your trip. The terrain will likely be mostly flat
EASY TO MODERATE: Perfect for the occasional rider: mostly Easy but may include longer Moderate stretches on generally flat terrain with some occasional moderate uphill/downhill sections.
MODERATE: Suitable for more regular cyclists who have an active lifestyle. Moderate grade include longer cycling and steeper ascents and descents. May include longer stretches of uphill climbs and descents or several shorter steeper uphill and downhill sections along the route.
MODERATE TO STRENUOUS: Suitable for very active cyclists with an excellent level of fitness looking for more demanding and challenging cycling. Moderate to strenuous itineraries involve extended steep ascents and descents along routes.
STRENUOUS: These are challenging itineraries, great for keen cyclists who have solid long-distance cycling experience and are in perfect shape. These are typically road cycling tours but may include gravel / off-road sections.
Can I bring my Dog?
Yes, no problem but let us know so we can book a dog trailer for you.
Can I bring a bag with me?
Yes, you can either carry your bag or some bikes do have baskets you can fit it in. If you have luggage or bulky bags, we can make arrangements for you to leave these at our shop.
What do I need to bring with me?
Mostly nothing except yourself! But here are a few ideas to help keep you comfortable (depending on time of year)
Suitable clothing for the time of year
Camera
Sun cream
Bottle of water
Comfy shoes
What are the safety issues?
Our routes are carefully planned, which will keep you away from busy traffic and were possible using pedestrian crossings. Our hire bikes are regular maintained by qualified mechanics.
Parents are politely reminded that they are responsible for their children.
Are these tours appropriate for children?
It really depends on the cycle route being selected, read the summary or key facts for specific details.
Do you provide helmets?
We do keep some helmets in the shop we can lend you but cannot guarantee their safety
For safety and hygienic reasons Bainton Bikes do not hire out helmets. Apart from no legal constraints compelling a rider to wear one we also believe we cannot guarantee the hygiene of the prior user or the care given to the helmet. A helmet's safety is deemed compromised if it has been dropped to the ground as the inner shell must be intact, the only way to know this is through thorough examination using x-ray which we are unable to do after every hire. Please bring your own helmet if you are worried, alternatively we do also sell helmets in our shop.